Subscribe to AALBC.com's eNewsletter
AALBC.com's eNewsletter has been published continuously since 1997. It is emailed at least once a month and is an excellent source of information on books and films by, or about, people of African descent not typically covered by mainstream media.
New Subscribers
A subscription to the AALBC.com eNewsletter starts at only $11.99, per year. The higher priced subscriptions, for "Supporter" and "Sustainer," allow subscribers to provide additional financial support toward the publication of the eNewsletter.

If you are unable to pay your subscription at this time we will gladly send it to you at no cost, simply click here. We trust you will consider purchasing your subscription in the near future
Renewing Subscribers
If you are already a subscriber to our eNewsletter and have come here to renew or provide financial support, by purchasing your subscription, we thank you.
Additional Benefits for Supporters and Sustainers
Supporters: 10% off all Advertising
Sustainers: 15% off all Advertising
We will continue to developing additional benefits for eNewsletter subscribers at the Supporter and Sustainer level. Whichever level you chose, your financial support helps us celebrate and showcase literature by and about people of African descent. Remember African-American literature is not just for Black people it is for everyone.
To Pay Online via PayPal
Once your payment has been processed you will be sent to the subscription page. There you may signup to have our eNewsletter emailed directly to you. A PayPal account is NOT required.
To Pay by Check or Money Order
If you prefer to pay by check or money order, you may mail it to us at following address:
AALBC.com, LLC
20341 Starfinder Way
Tampa FL, 33647
Once you have mailed your check or money order, click this link to subscribe.
Thanks for Your Support!
Peace,
Troy Johnson
AALBC.com Founder & Webmaster
Advertisers
AALBC.com eNewsletter Sponsorship $149.00 Regular
Promote your book or business by sponsoring the AALBC.com eNewsletter. This is the only advertisement in our eNewsletters. It and appears at the top for the message. Here is an actual example.

AALBC.com eNewsletter Sponsorship from AALBC.com, LLC

Dedicated Sponsored Email $399.00
Send a rich email message to our subscribers. Only one DSE is sent each month. All messages are archived on our website. Here is an example of an actual DSE mailing.

Dedicated Sponsored Email from AALBC.com, LLC
Related Links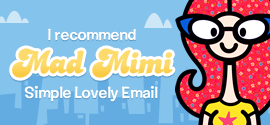 AALBC Uses MadMimi to Manage our eNewsletters